About Us
"Many professionals have a good level of English, but a low performance level working in English. This is because they never practise presentations, meetings, negotiations conference calls and emails in English nor receive 360º Feedback and coaching about their working performance in English".  

"For many companies and professionals, we are the next step after traditional English classes".  

The Practice Office is a training company created in 2012 by two passionate Management Trainers who believe realistic practice and 360º Feedback are key to developing people´s full potential. 

The Practice Office training (highly practical and international) offers professionals the opportunity to practise their Management & Communication Skills in English at the same time as improve their Business English and become confident working in English.
Our training has three fundamental pilars:
- the practice of international business cases
- 360º Feedback and coaching
- working performance in English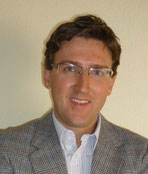 Director & Senior Trainer - Christopher Wright
Professional & International Experience
Over 16 years of experience. Product Manager for a General Electric subsidiary in the US. Founding Director of an International Recruitment Company for Engineers and Project Managers in London, UK. 
Training Experience
Christopher has worked with Airbus, Técnicas Reunidas, Iberdrola and Amazon in Spain. Specialized in Management Skills, Communication Skills, Business English and Intercultural Skills. Masters Degree in Industrial Strategy and Innovation from Manchester Business School
Our Team:
Our team of International Business Trainers have a good mix of international management, training and business experience (10 to 35 years) from varied sectors (Finance, Services, Industry, Construction, IT, Internet, Telecoms, Oil&Gas) and diverse countries (US, Europe, Middle East and Asia).